FISH HUNTER'S VEST
Article Written By; Don Gasaway,
https://dongasaway.wordpress.com/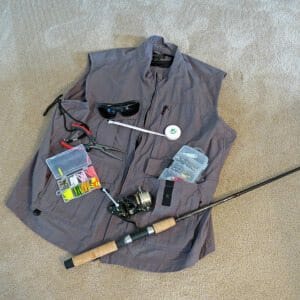 Speculation is the origins of the fishing vest lie in New England in the 1930's.  Anglers wore hunting coats while fishing because the large pockets could hold fishing tackle needed while wading streams.
The long sleeves and the weight of the jacket restricted movement while casting and anglers sought a more suitable alternative.  A sleeveless garment with pockets sewed on became the answer.  From those garments continued refinements developed.
Over the years anglers tried dozens of fabrics, zippers and designs.  The focus of each part of the vest was a design for the fisherman.   Closing pockets with the addition of zippers and snaps to holed tackle secure were the first steps.  Certain pockets were for certain tasks.  The idea was for the vest to allow the angler to stay organized and still have the freedom of movement required to cast.  Some vests have as many as thirty pockets.  They became mobile tackle boxes.
For the angler wishing to explore rivers and backwater streams in search of freshwater fishing, a fishing vest lets us carry all the gear needed without lugging along an entire tackle box.
The vest is not for warmth it is a traveling tackle box and day pack.  It should be large enough to go on over a sweater or jacket if needed.  A vest made of waterproof material is advisable.
The best vests have a couple of large pockets on the front to carry fly wallets and plastic boxes.  A large pocket on the back can hold rain gear, sandwiches or first aid kits.  Smaller pockets are handy to hold boxes of flys and spools of leader.  A zippered pocket is a good idea for that cell phone that might be handy in case of an emergency.
Some other things an angler, trout fisherman or not, include such "essentials" as insect repellent, hook hone, flashlight, pen knife, pliers, clippers, polarized sunglasses, water or soft drink and a sandwich or energy bar.
To see the original article, go to https://dongasaway.wordpress.com/2015/05/08/fish-hunters-vest/