It couldn't be a better time to start planning for your next adventure vacation and looking for the best RV parks for hunting and fishing. After all, hunting for most game starts late summertime and you want to be sure that you've secured your RV and campsite reservation well in advance. So where should you go? Since we've been around, we thought we'd suggest a few locations. Check out our list of campgrounds in the U.S. with the best fishing, the most game, and top-notch campsite amenities. You can reach out to these locations or use an online tool for campgrounds and RV parks to expand your options.
Paint River Hills Campground and Cabins – Crystal Falls, Michigan
Located adjacent to the Paint River in Crystal Falls, MI, Paint River Hills Campground and Cabins is a favorite for fishing, hunting, and camping enthusiasts in the Midwest. Paint River has rock bass, perch, walleye, pike, trout, and even crayfish, which you can find lurking around the rocks further down river. It's typically easy to catch the nocturnal crustaceans, but watch out for their pincers! And for hunters, Crystal Falls is a great place for small game like grouse and woodcock. Each year, archers come to the Iron County to try their hand at snagging a trophy buck. In fact, schools customarily close for the first day of whitetail hunting season and the city is wall-to-wall hunter orange. Don't forget your rain gear.  To stay dry check out the 33 best waterproof hiking jackets.
Josephine's Idaho RV Park – North Fork, Idaho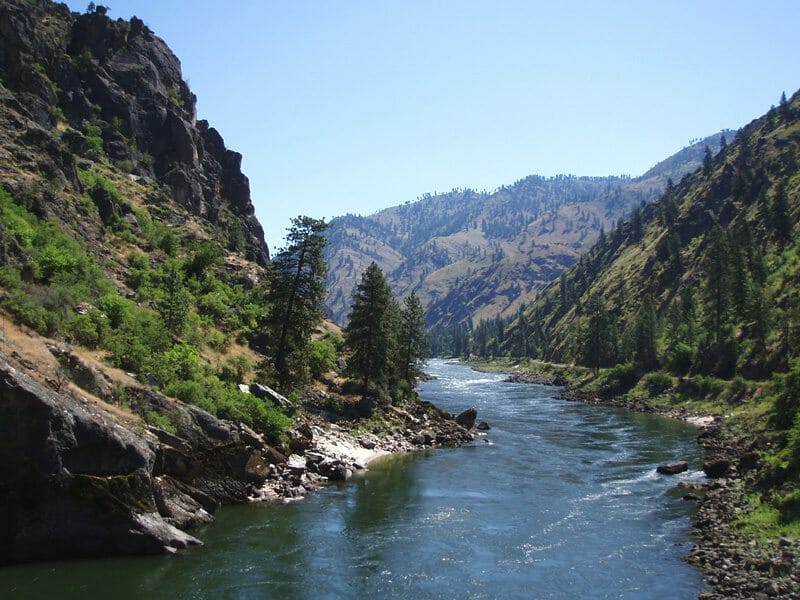 The view from anywhere in the vicinity of the Rocky Mountains is one of the most visually striking sights you will ever see. That's why if you're heading toward Idaho, specifically just 20 miles west of the Montana border, you must plan to visit Josephine's Idaho RV Park. Fishing enthusiasts will love their stay at this campsite since it's only a five-mile drive to the steelhead-filled Salmon River. The area is also home to big game like bear, elk, mountain lion, and both whitetail and mule deer. Josephine's is one of the most hunter-friendly RV campgrounds out there. They even have a designated area to weigh your game.
Kamp Klamath RV Park and Campground – Klamath, California
View of the Klamath River
Tucked away at the farthest edges of Northern California in Klamath National Forest, Kamp Klamath RV Park and Campground is as heavily forested as you can get in this state. What keeps bringing more fisherman here year after year? The salmon, redtail surf perch, and steelhead trout. The campground boasts that their own Klamath River holds the world record for the largest redtail surfperch ever caught. Care to take a shot at breaking that record?
The Vineyards Campground & Cabins – Grapevine, Texas
Sitting on the southeastern shores of Grapevine Lake, not far from Dallas, the Vineyards Campground is a great spot for all types of outdoor adventurers. The lake is packed with alligator gar, channel catfish, largemouth bass, spotted bass, white bass, and white crappie. Hunters travel here to enjoy the waterfowl, deer, and feral hog.
Little Orleans Campground & Park Area – Little Orleans, Maryland
Maryland is easily accessible from at least six different states, like Pennsylvania, New Jersey, and West Virginia. Little Orleans Campground & Park Area, on the Pennsylvania border, is a practical choice. Teeming with forests and streams – the old line state is a haven for hunters and anglers. In Little Orleans, visitors can fish year round in a trout-filled stream that runs through the 222-acre park. Additionally, the Green Ridge State Forest is located alongside the campground, so if you're in the mood to hunt deer or small game like wild turkey and ruffed grouse, you can do that too.
Norm & Ann's Campground – Neillsville, Wisconsin
We challenge you to find a single Wisconsinite that hasn't tried his or her hand at hunting or fishing. The state is home to forests brimming with wild game, plus rivers and lakes packed with almost any kind of fish you'd want to see at the end of your line. Norm & Ann's Campground is truly a hidden gem. It may not be the largest campground out there, but the Central Wisconsin getaway is second to none for deer hunting. Hunters from all over the state travel here with their bows and guns. The 300-plus acre Mead Lake is a favorite spot for locals seeking a quiet fishing hole.
Lake Rousseau RV & Fishing Resort- Crystal River, Florida
It's no secret that Florida's rivers, lakes, and streams make for some great fishing. Lake Rousseau RV & Fishing Resort, on the state's Gulf Coast, is known for having the biggest largemouth bass in all of Florida. One of the perks to fishing at Lake Rousseau is that the Inglis Dam splits the lake into two. The east side fills with freshwater fish and saltwater varieties are on the western side. In the freshwaters, you can catch bluegills, catfish, crappies, and stumpknockers.
Author:
Steve Sohanaki is a California native who moved to Austin in 2015 to attend university at UT. During the week, you'll find him writing for RoverPass but on weekends you can find him hiking or mountain biking the trails of Austin.
To see the original article, go to https://www.roverpass.com/blog/best-rv-parks-hunting-fishing/