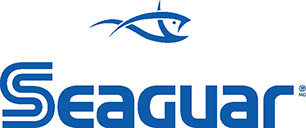 SEAGUAR INVIZX NOW AVAILABLE IN VERSATILE 600 YARD SPOOL
Compact, convenient, easy and economical new spool for anglers
Louisville, KY (April 22, 2019) – When it comes to choosing fishing line, hordes of anglers—including numerous pros—turn to Seaguar's InvizX, a 100% fluorocarbon that's great for casting, all-around use, as well as segmentation as a reliable leader material. It works extremely well as the main line on spinning reels and in higher pound test on baitcasting reels. It's soft, supple and very castable with superior sensitivity. Part of the reason so many anglers turn to it as their primary choice in fluorocarbon is also because it's virtually invisible yet has advanced hook-setting power, casts smooth and exhibits superior knot strength.
Previously only available in 200- and bulk 1000-yard spools, Seaguar is proud to announce the popular line is now available in a versatile 600 yard spool that you can take anywhere. This new spool is the perfect size to fit in a boat cup holder, a glove compartment in a boat, a fanny pack, smaller watercraft including kayaks, a tackle box, etc. It's considerably smaller than a bulk 1000-yard spool and also more economical than purchasing three 200-yard spools. Ultimately, the 600 yard spool size is compact, convenient, and always at the ready.
Many anglers have already taken to the unique 600 yard format, including bass pros Aaron Britt and Keith Combs.
"Most of the time large spools of line are incredibly bulky and take up a lot of room. Not the new 600 yard InvizX spool. You could be a bank fisherman, a kayak angler, a small boat fisherman and put the spool virtually anywhere. A lot of anglers running the banks are using backpacks, fanny packs, smaller tackle boxes, etc. and the spool size is perfect for that. Not only does the spool fit into most places but you're fishing with the best line in the world. It's hard to argue that it's the best bite for your buck considering you could roll up about six reels from one 600 yard spool versus separate 200 yard spools. Not only do you get more line on a 600 yard spool, you save money," says FLW pro Aaron Britt.
Photo courtesy of FLW
He continues: "I keep one in the center console of my boat, which is very, very small. It fits a marker buoy, and some sunscreen, but also fits my 600 yard spool for quick and easy access. I love InvizX. It's smooth, casts brilliantly, there's not a whole lot of memory, and there's just enough stretch. There's not a lot of stretch but just enough that I feel comfortable setting the hook hard on any bait that I throw. It's also a universal line. You can use it on spinning and baitcasting reels, as great leader material—it's just overall the best line on the planet. I have the utmost confidence in it and spool all my reels with it."
B.A.S.S. Elite pro Keith Combs agrees: "The 600 yard spool is the perfect size to fit into places that might have been wasted space in your boat. And For kayak fishing it's great because you're limited with space there, too. The other thing, it seems like there's always some wasted line at the end of a 200 yard spool and a 1000 yard spool takes you forever to use; not with the new 600 yard spool—it's the all-around perfect format."
Combs has been a diehard user of InvizX for years and says he just appreciates its all-around performance besides the new economical and versatile 600 yard spool format.
Photo courtesy of B.A.S.S.
"It's an awesome all-purpose line. Seaguar has a lot of really good specialty lines and I use their Flippin' line sometimes, their Finesse line on occasion, but InvizX is just kind of like if you're going to stock up on your basic line sizes—your 12, 15, 20—InvizX is simply the most versatile line I've ever used. It holds up under all conditions and it's good for anything. With that, I really appreciate the simplicity of saying I'm going to get a 600 spool of 15 lb. InvizX and wind up a bunch of my reels.
The performance is just incredible. There's very little memory even when it's extremely cold and it's a supple line. A lot of my fishing is long casting offshore fishing and it's great for that—it's strong, it's sensitive, but I can make really long casts because it's very limp and extremely castable. But I can also use the same line to go flip laydowns. It handles it all."
Seaguar InvizX is available in line tests of  6, 8, 10, 12, 15, and 20 lbs, in the new 600 yard spool format.
For more information, call 502-883-6097, write Kureha America LLC, 4709 Allmond Ave., Suite 4C, Louisville, KY 40209, or visit us on the Web at www.seaguar.com or on Facebook.
#Seaguar
As the inventor of fluorocarbon fishing lines in 1971, Seaguar has played a prominent role in the advancement of technologies to improve the performance of lines and leader material for both fresh and salt water anglers. Seaguar is the only manufacturer of fluorocarbon fishing lines that produces its own resins and controls the manufacturing process from start to finished product. Today, Seaguar is the #1 brand of fluorocarbon lines and offers a full spectrum of premium products including fluorocarbon mainlines and leader material, fly tippet and leaders, 8-strand and 16-strand braid and monofilament fishing lines.