The Southern Land Brokers believe a new law allowing supplemental feeding areas during hunting season to be good for hunters and land managers.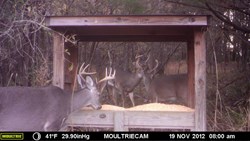 Hunting season is upon us, and The Southern Land Brokers have high hopes for this year's season because of the passage of a new, albeit controversial, law. The ACDNR's 2013-2014 Hunting and Fishing Digest states that new law allows for supplemental deer feeding areas on private lands during season, "located beyond 100 yards from the hunter and not within the line of sight of the hunter."
The state previously allowed adding deer feeders to supplemental feeding areas on private lands during deer season but did not allow these areas to be hunted. Many viewed the old law as too vague. For instance, Section 9-11-244 said that hunters could not hunt within an area in which deer were being supplementally fed, and that, "Area in this sense will vary depending on visibility, weaponry, natural or man-made barriers, vegetation, terrain and distance." The interpretation of the law was then largely left open to conservation officers. The language of the new law is more clear cut, and could help protect hunters from legal liability.
Some fear that the new law essentially legalizes baiting and that it will adversely affect the deer population. ACDNR wildlife biologist Chris Nix told the Alabama Media Group in an article published October 25, 2013 that this is not the case. He said, "When you place your feeding station on your property, in order to be legal, you must do so in a manner that does not increase the odds of harvesting a deer. If you're doing anything other than that and the feed is drawing deer across your line of sight, that's baiting."
In order to track the effect of this new legislation, the Alabama Department of Conservation and Natural Resources has asked hunters to report the deer they harvest. They've made the process incredibly convenient, as you hunters can do this through a 1-800 number or through the Outdoor Alabama app on your smartphone, available for Apple and Android products. Though harvest reporting is entirely voluntary, it will provide valuable data to ADCNR.
Though some fear the consequences of the law, there are land managers who view the new law as a step in the right direction. They plan on incorporating supplemental feeding areas into their overall wildlife management plan, viewing it as a means of producing a more robust and healthy deer population. One such manager is David Harrell, owner of The Southern Land Brokers. David and his team at The Southern Land Brokers currently manage more than 5,000 acres of timber and hunting land throughout central Alabama. In addition to wildlife management services, David's company lists some of the most premier hunting land the state of Alabama has to offer. In light of the changes to the law and land prices being at their lowest in the past four years, David says, "Now is the time to buy."
About The Southern Land Brokers:
The Southern Land Brokers provide clients with the opportunity to build a lifetime of memories outdoors. David Harrell has been assisting clients for many years with the sell, purchase and development of land in the South, and is now offering these services through his company.